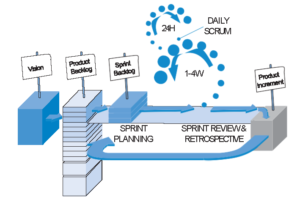 A few project / program managers ask often-times about Scrum and its mechanics and its real-life significance and value. We all now know that Agile framework is for any professional environment; software, hardware, service oriented, and other types of projects. All we have to do is to adjust our works using Agile principles and values!
Agile Manifesto (also included at the end of this entry) and rapid / sustainable development as customer-driven, lightweight, competitive advantage, iterative, yet simplified  approaches makes all of us empowered! Scrum however, is a special implementation of Agile as short sprints (of actions) to iteratively define-implement-test work cycles or time-boxed team efforts. Most of us worked in sprints producing working deliverables that are subset of the end-product! I know many experienced managers who have used Agile in completely nontechnical environments (hydroelectric smart meter implementations, change management, medical device hardware sub-systems, just a few to mention). They promptly created their teams, made list of deliverables, prioritize their tasks collaboratively, produced deliverables, and iteratively handled next sprints till their final product delvered.
However and beyond regular philosophies and specified approaches, Agile is a mindset not a set of processes. Many scholars have dug up how human aspects impressed Agile , how behavioral-based project management applies to successful delivery, how "Agile" to improve organizational success, and how VUCA is used in emerging ideas of strategic leadership development, even at times of change . We can easily quote the adoption information curve when referring to the adoption of technology and ideas by a population. But when it comes to Agile , we mostly address the indirect changes rather than understanding the human nature, resistance to change, improved substitutes, and continuous improvements!
I think Agile addresses the mindset of how to collaboratively achieve a task (or a project) among team members where everyone (from customers, to product owners, managers, developers, and implementers) work towards common goals in an iterative progression. Agile is more like conviction to the concept of the crowd (or scrum team) working towards continuous achievements! In this practice all players commit to the crowd strength, in a coordinated and collaborative manner.
As per the nature of this mindset, I have seen managers who successfully applied Agile values to drive technical and nontechnical projects, as well as pure hardware and even construction based projects (in hybrid of processes!) We all have heard about "Water-Scrum-Fall" where experienced leaders merge distinct frameworks to plan, execute, and produce their needed result in a hybrid way.
AGILE MANIFESTO:
1. Our highest priority is to satisfy the customer through early and continuous delivery of valuable software.
2. Welcome changing requirements, even late in development. Agile processes harness change for the customer' competitive advantage.
3. Deliver working software frequently, from a couple of weeks to a couple of months, with a preference to the shorter timescale.
4. Business people and developers must work together daily throughout the project.
5. Build projects around motivated individuals. Give them the environment and support they need, and trust them to get the job done.
6. The most efficient and effective method of conveying information to and within a development team is face-to-face conversation.
7. Working software is the primary measure of progress.
8. Agile processes promote sustainable development. The sponsors, developers, and users should be able to maintain a constant pace indefinitely.
9. Continuous attention to technical excellence and good design enhances agility.
10. Simplicity–the art of maximizing the amount of work not done–is essential.
11. The best architectures, requirements, and designs emerge from self-organizing teams.
12. At regular intervals, the team reflects on how to become more effective, then tunes and adjusts its behavior accordingly.